Bouyer-Leroux terracotta brick systems
Bio Bric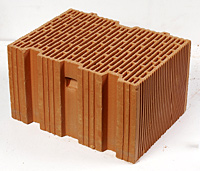 Bio-Bric bricks present an innovative solution to new-build projects. With a basis of clay and fired with up to 60% of the necessary fuel as sawdust derived from timber manufacturing, these bricks offer a real alternative to conventional masonry construction, with its high embodied energy burden. Indeed the system also presents a serious 'green' alternative to lightweight timber frame buildings and their minimal thermal mass with consequent poor 'thermal flywheel' disadvantage.
Precisely manufactured, Bio Brics can be rendered externally with one-coat hydraulic lime based renders, and walls are built with thin-joint mortar beds, resulting in a much reduced labour and material input.
BGV
In addition, the BGV system (click here to view a video of this in action) offers a straightforward and very quick method of achieving U values of 0.2 W/sqmK, by combining an external wall of 20cm thickness with an internal clay partition block and cavity insulation.
Please click here to find out more about these systems.
Please contact us to find out more about this system and to request samples.